XeniT - Alfresco desktop client "Fred"
Situation
To create our Alfresco desktop client "Fred", we were looking for a versatile toolkit to create a special type of tree structures. We need to combine list type of functionality (grouping, sorting, filtering) with a tree based structure. The tree allows our customers to navigate through folder spaces, the list allows to take advantage of meta-data in an excel like fashion.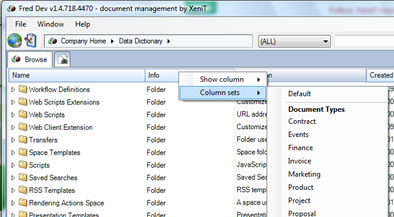 At the same time, the display of nodes needs to be fast, we need hierarchical structures beyond 'folder in folder', and we want to have a List view on the data we present to our users. Of course, drag & drop, right mouse click, performant scrolling through large structures, good support for keyboard shortcuts, you name it, we needed it.
Solution
Lidor's combination of tree and list functionality in the TreeList component responded very well to what we need. The functionality to embed controls allows us to limit the number of pop-up windows required to perform complex end-user tasks.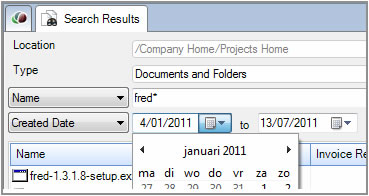 Moreover, we gradually integrate more and more functionality of Lidor's studio product. We have found all the events and all the supportive functionality we need. As our use case deviated from the normal usage of the toolkit, we worked closely together with Lidor to make sure the solution fitted our requirements.
Benefits
The TreeListView has a rather unique combination of tree and list like functionality. The possibility to include controls and use xml formatting increases our capability to build compelling interfaces. In next versions, we will exploit even more "tab control" and "windowing and docking" capabilities so we can provide a customizable user experience.
With any toolkit, one has the ordinary issue or two. However, I can testify that we enjoy excellent support. And when I say excellent, I mean:
Rreaction within a day or sooner
Relevant feedback, with coding examples
Openness in the readmap to accommodate our requirements
Conclusion
There might be richer .NET control toolset in the world, but:
TreeListView has unique features for us
It's rather simple to use and program
Quality of Lidor Software is good
Support of Lidor is to a level we have never experienced before
For More Information
XeniT build a desktop client for Alfresco, the Open Source Enterprise Content management system. You can find us on www.xenit.eu. Moreover, to see screenshots, video's and have a trial, you can visit http://www.xenit.eu/Fred